Compact make-up case with rigid frame
Where to store your make-up at home? How to carry your make-up and cosmetics when travelling?
The make-up cases, rigid and compact, with an aluminium frame are ideal for storing, stowing or transporting all your make-up, whether you are a professional make-up artist or simply passionate about make-up.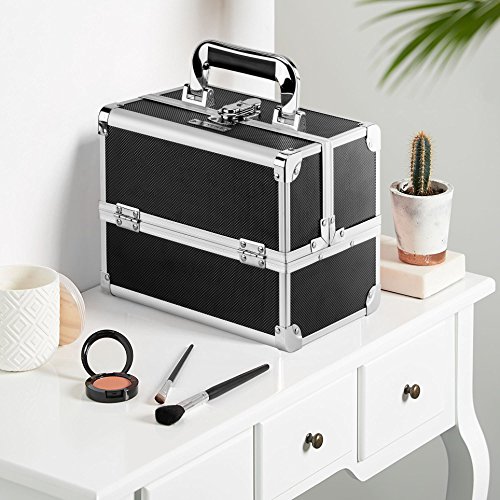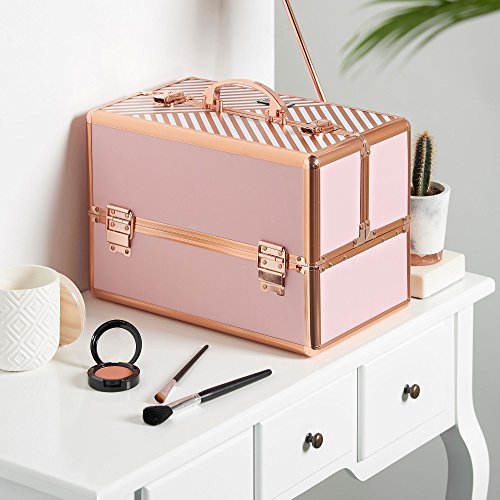 They are also called "beauty cases".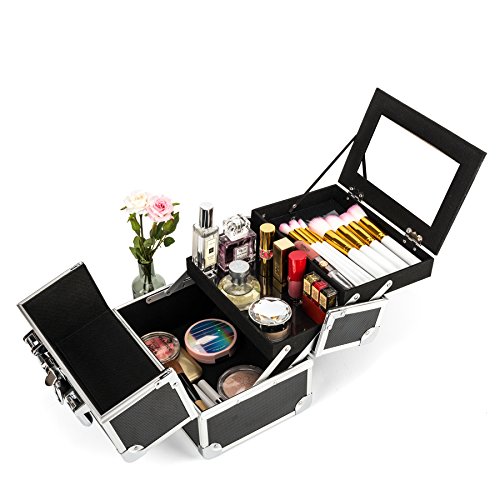 Go for a rigid and compact make-up case with an aluminium frame
These are the many advantages of beauty cases: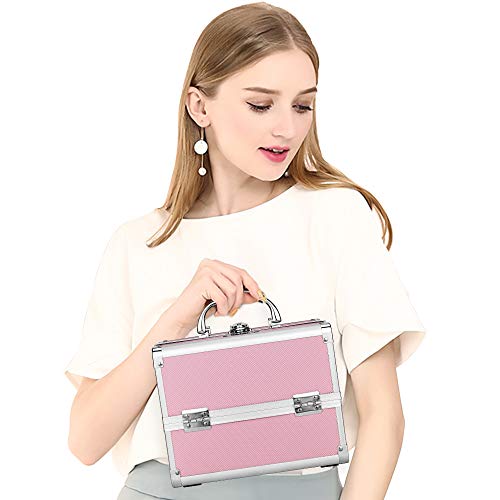 Table of Contents

Compact make-up cases with aluminium frame
Table of Contents

Compact make-up cases with aluminium frame
Rigid make-up cases are strong and robust and offer a good longevity.
The make-up cases made of reinforced aluminium frame are easy to store and carry by the handle or shoulder strap.
They are easy to clean and maintain.
They protect their contents effectively and are equipped with key locks.
The rigid make-up cases allow quick access to all their contents in the blink of an eye.
They often allow you to organise your make-up freely thanks to their modular partitioning system.
Their compartmentalisation is efficient and neat to carefully store all your beauty equipment and make-up products.
They are affordable and offer a good quality/price ratio.
They are available in different colours and sizes, ranging from a sober design to a truly original one.
Discover in a flash the compact make-up cases with aluminium frame and find the design and capacity that match your needs.
Compact make-up cases with aluminium frame
Discover in a flash the compact make-up cases with aluminium frame and find the design and capacity that match your needs.
Practical and mimi, the tiny make-up cases with aluminium frame, size and featherweight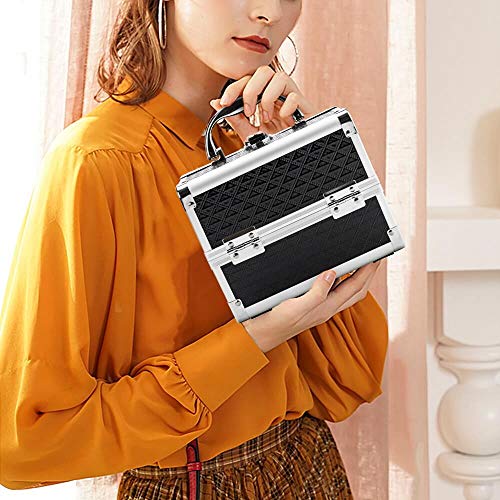 It is light and has a cute full look. It is really convenient with its mirror to do make-up wherever you are. Its reinforced aluminium frame makes it strong yet lightweight. It offers a neat interior compartmentalization where every cosmetic and beauty product will find its place.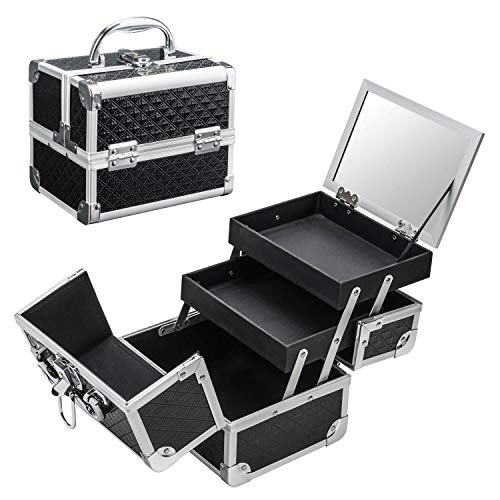 The interior is lined with fine black fleece fabric and allows you to store your cosmetics according to their size.
Shockproof and handy, it is easy to take everywhere with its reinforced handle. It is a good value for money investment at around 25 euros. Its precious contents will be well protected as it locks.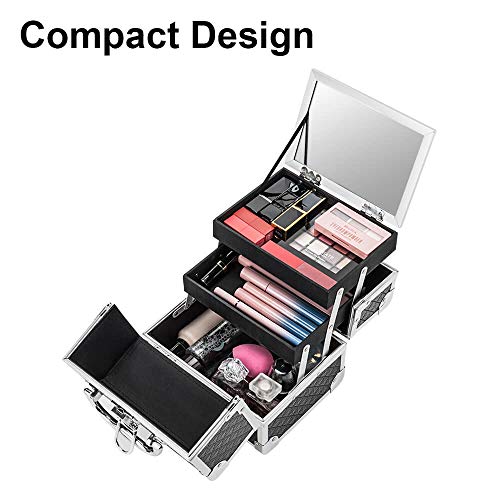 The beauty case or hard make-up case is perfect for personal use, to store all your make-up, cosmetics, creams and also jewellery. It will accompany you with efficiency and with style in all your travels and journeys. Its opening system allows quick access to all your make-up products, brushes, eye shadows, lipsticks etc.
It can also be used as an additional luggage item for a make-up artist at home or to satisfy a loyal customer at home (whom you know well and who asks for a similar make-up from one time to another). No need to move all your professional make-up equipment if you already know exactly what you are going to use.
In short, it is the ideal mini make-up case for all those who value their make-up as the apple of their eye.
Sturdy, practical, aesthetic, the Songmics pro make-up cases
Around 40 euros, the Songmics beauty case is an excellent investment to carry, store and use your professional or personal make-up. The Songmics make-up case for make-up artist or beautician is aesthetic, sturdy and functional, thanks to its aluminium frame with metal hinges.
It supports weight and shocks and its opening system allows quick access to all the compartments which are modular. Your cosmetics and accessories will be well protected and secured during transport, as the make-up case is equipped with key locks.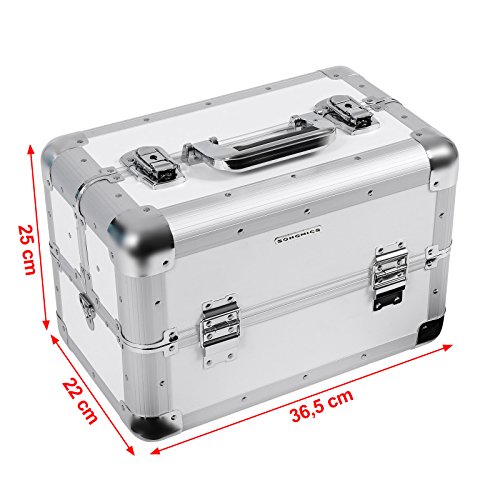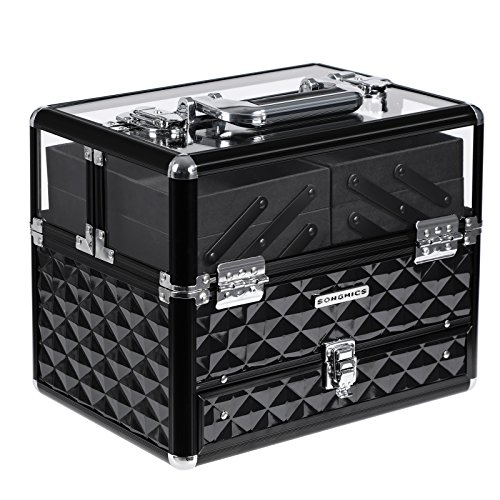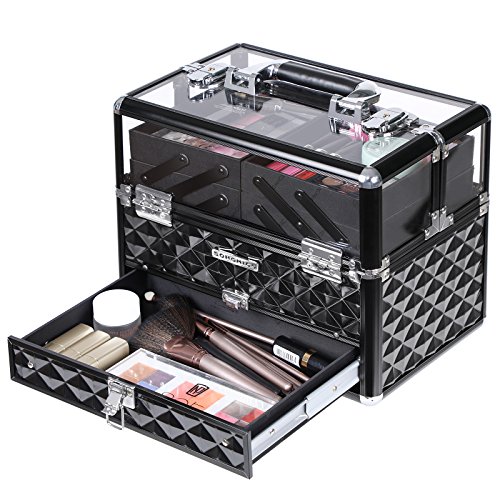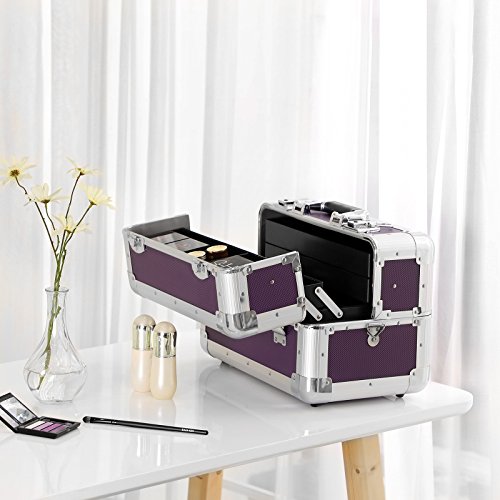 This compact Songmics beauty make-up case with reinforced aluminium frame is available in black and also in purple in a variety of sizes and colours. As here the beauty case in aluminium pink: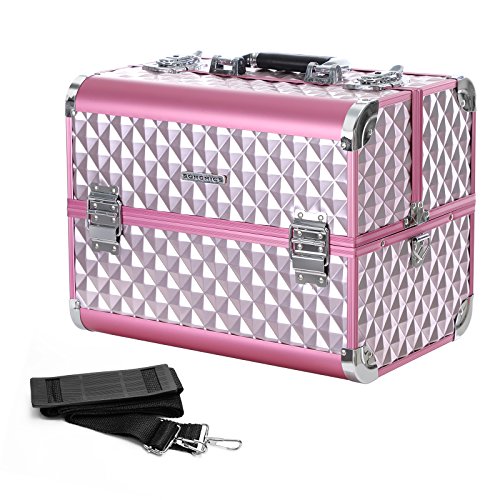 Glamorous and vintage, the feminine make-up case with mirror and led designed by Ludovi
For all passionate and glamorous make-up artists:
Here is Ludovi's glittery and retro make-up case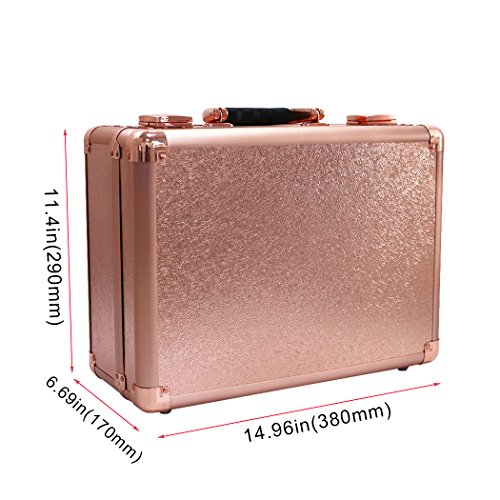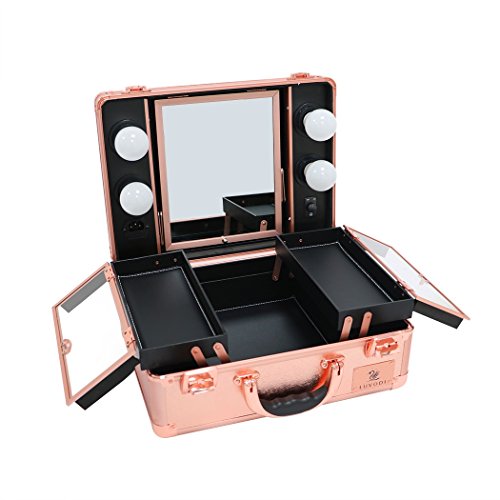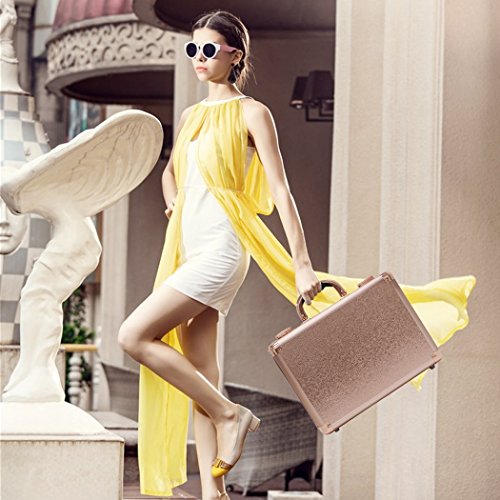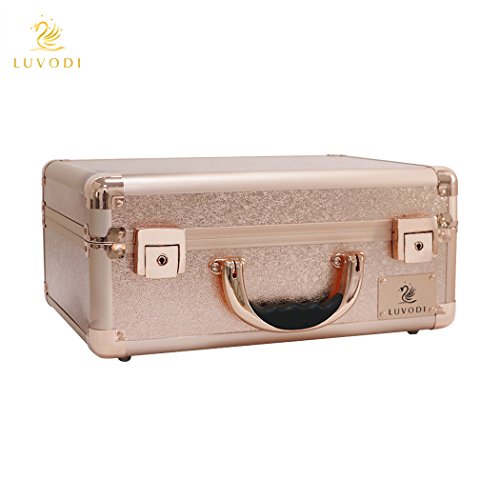 Beauty cases with original and trendy external design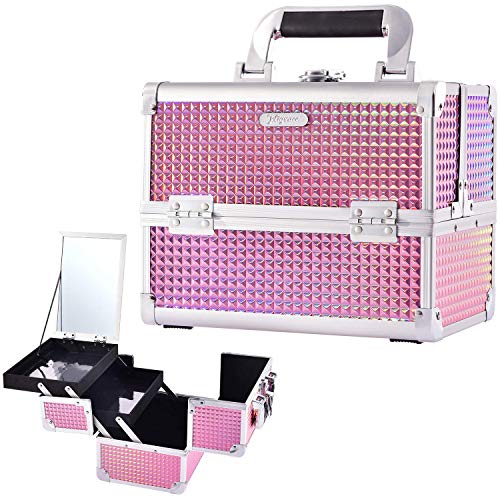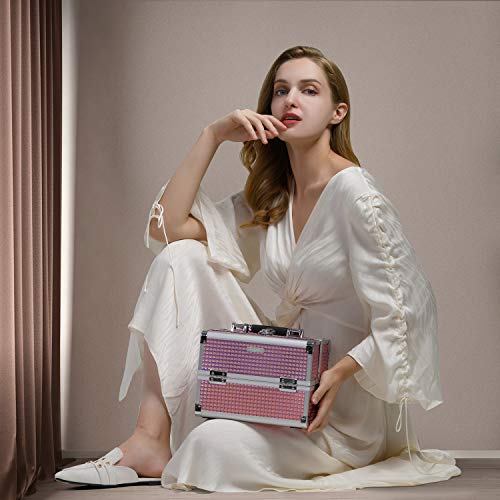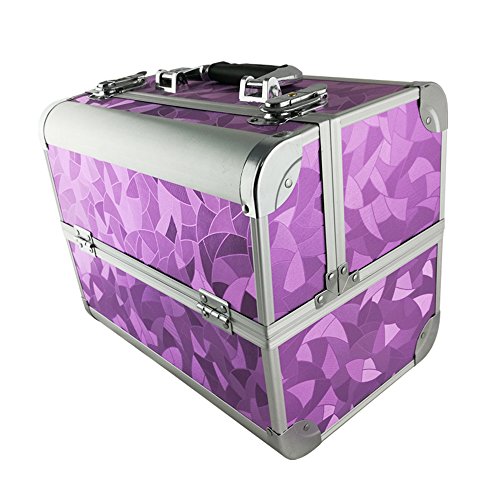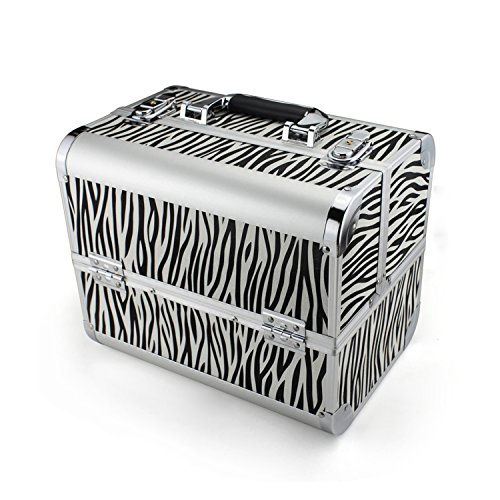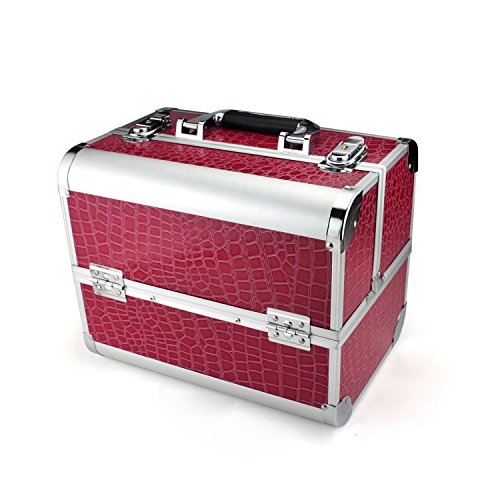 The "Anndora beauty cases" with an original exterior design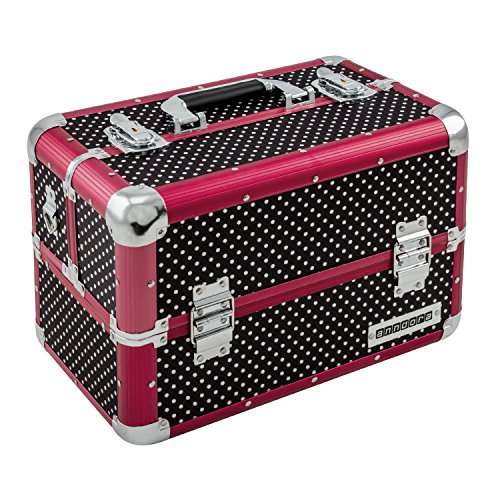 With a capacity of 20 litres, the Anndora make-up cases come in 10 original versions, bright and glamorous colours, original designs, you're sure to find the one that will make your heart skip a beat.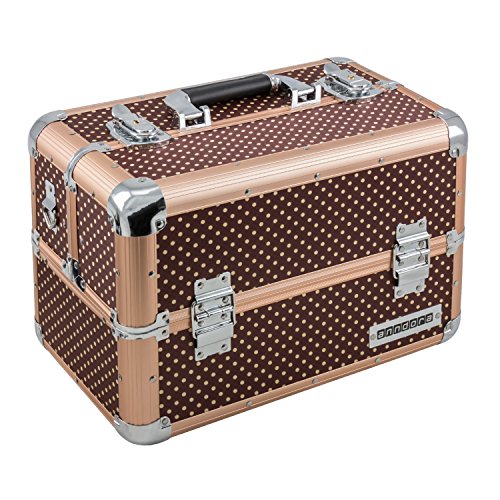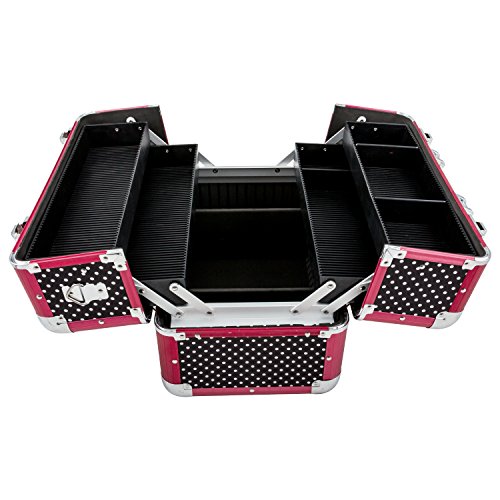 Made in Germany, they offer 4 side compartments with modular partitions and a main storage space for all your cosmetics. Sturdy with their aluminium frame reinforced at the corners, they are also comfortable to carry with their shoulder strap.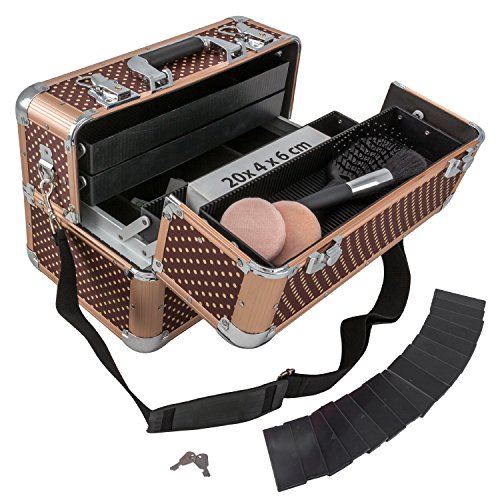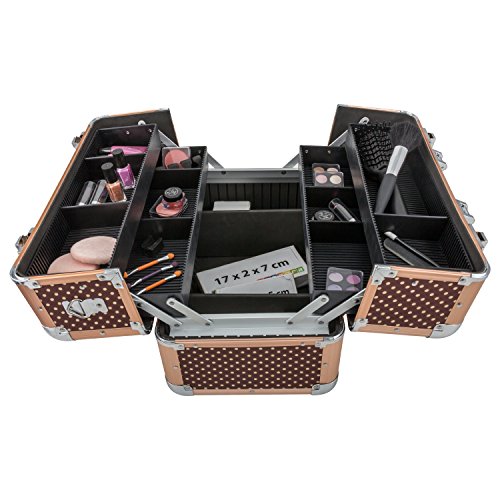 You didn't find the make-up luggage or storage that you are looking for? Maybe you need a more spacious professional make-up case.
Continue Reading
Beauty Bags, Beauty Cases and Pro Make-up Cases
All these circumstances and particularities are to be taken into account when buying a professional make-up case for professional make-up artists, several choices are available to these beauty professionals, compact beauty case, vanity, make-up trolley case, artist's bag with wheels ...